HOME

Family Pages

Morton Family Search
Morton-Sisco Families
My Mother
Wallace Hollow
Wallace Wayside

Art, Poems
& Stories

Art Gallery
Country Humor
Dark Pleasures
Legend of Wellholler
I Can See Clearly
Lake Applets
Loved
Nobody Told Me
Whatcha Doin' Mom?*NEW


Cherokee &
Native American

Cherokee Bits & Pieces
Native American Tribute
Tears of My People
The Removal


Miscellaneous

Niota, Nigh Onto Heaven
Old Fashioned Cook
Hydesville, CA. Grade School
Where Are They Now?
Wood Crafts
Webrings & Things
Sign or View Guest Books
Email
Webrings and Things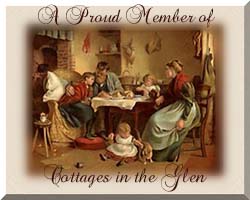 We are a very small group and membership is by invitation only.
Feel free to visit the sites and if you would like more information
please feel free to contact Cressida.
She will be very happy to try to answer your questions.