THE TEARS OF MY PEOPLE
The land here is lush and green,
with many animals in which to feed our people.
There is plentiful land and water,
in which to raise our food.
We will do well here.
We will build our shelters to withstand
the cold of winter and rains that will
fill the streams.
We will grow from seeds the food
which will see us through the harsh time.
We will do well here in the mountains and valleys.
We will take no more than we need and
use everything we must take.
We will kill only the oldest and weakest of the animals
and in this way we will keep the herds strong and healthy.
We will find peace here in our beloved land.
For many moons this was so.

THEN THE WHITE MAN CAME.
In search of riches of gold and silver
they swept across the land.
It was decreed by the white man's leader that
we would leave our land.
Start with the oldest and weakest,
for they will be unable to fight against our great forces.
Drive them from their shelters and take them
for your own.
There is plentiful bounty at each one,
with gardens well tended to tide you over the harsh winter.
There are strong and healthy animals to kill and eat.
They are plentiful, use only the good meat.
Let the scavengers have the rest.
We will do well here!
Gather all the savages and herd them West.
The TEARS of my people are THE TRAIL!
By
Sharon Wallace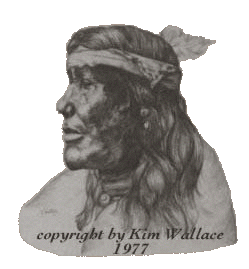 For a history on the removal of the Cherokees
you may use the link below.
I will be adding more as time permits.