Trapped in someone else's frames? Break Free No Frames Version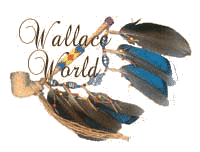 Please enjoy your time spent at my site
and I do welcome all here.
Take your time, browse around
and let me know you were here by signing the guestbook.
A variety of subjects awaits you...
Cherokee history and graphics, original
art, lake applets, a section on Country Humor,
genealogy on the Morton family,
my wood work which is a
computer desk and curio cabinet.
An online gallery of my art work for sale
and so much more.
All external Links will open a new window.
This is to insure other sites
will not be trapped in my frames.

If you would like a link to your site in our Library of Links
please use the link below.
Add Your Link
Backgrounds and graphics other than
awards we have received or gift graphics
were made by Sharon Wallace
and are the sole property of Wallace World
and are copyrighted as such.
Please be kind, look but don't take.
If you have a special need for a background
or graphic, email me and I will try to help.
Thank You for spending your time
with Wallace World.
If you would like to recommend Wallace World
to a friend click the Pass it On button below
Montezuma by Cusco
Sequenced by Dave Turner
Copyright © 1998 Wallace World All Rights Reserved